Thomas Steen, C, 950 NHL games, #25, not only my favorite Jet of all-time but my favorite player of all time. Sometimes hidden behind the skills of Hawerchuk the Swedish center was one of the most under rated players in the game. He was also one of the few who constantly received good reviews from Don Cherry because he played the game hard.
Dale Hawerchuk, C, 713 games, 929 points, the savior. We followed his last season in junior because we already knew he would be landing in Winnipeg because the Jets were so awful. Our one and only true Jet Hall of Famer.
Joe Daley G, 308 games played over 7 seasons. Fixture in the nets and around the city. Grew up in East Kildonan, in the shadows of Terry Sawchuk.
Anders Hedberg, RW, 286 games, 236 goals. Excitement! Incredible sniper, always seemed a bit more charasmatic then his partner Ulf Nilsson. What is often lost in folklore is that Nilsson and Hedberg did not play with each other in Sweden. Not only were they new to North America and to Hull, but also to each other, when they clicked to form the Hot Line.
Bobby Hull, LW, 411 games over 7 seasons in the WHA, plus 18 games in the NHL. The Franchise. At the time I preferred the younger players, but in retrospect and from meeting him have become even a bigger fan.
Randy Carlyle, D, 564 games. The last of a series of veteran defensemen the Jets brought in to stabilize young defensive corps. This one though never left.
Ulf Nilsson, C, 300 games, 344 assists. Best passer I've ever seen.
Ed Olczyk, C, 214 games, gave his heart to the fans and the city. I never would have thought that Eddie No-Check would be one of my favorites.
Willy Lindstrom, RW, 316 games in the WHA, 288 in the NHL, longstanding slick Swede.
Peter Taglianetti, D, 207 games over 6 seasons, for the most part a stay at home defenseman who was also quite willing to drop the gloves when needed.
Peter Sullivan, C, 313 WHA games, 295 points, 126 NHL games collecting 82 points, major disagreements with management, has been called the most under rated WHA player ever.
Lars-Erik Sjoberg, D, 295 WHA games and 79 NHL games, the captain, shoe, little general, RIP.
Tie Domi, RW, 161 games over 3 seasons. Tie will go down in history as a one of a kind kind of player and guy.
Bob Essensa, G, 281 games over 6 seasons. Fixture in net, mediocre-good goalie, always seemed like such a nice guy. Goalie Bob.
Alexei Zhamnov, C, 235 games over 4 seasons. With the possible exceptions of the Nilssons (Kent & Ulf) the most skilled passer and stickhandler to ever play for the Jets. Pure magic, but often exhibited very childish behaviour.
Freddie Olausson, D, 496 games. Could be frustrating at times with a lack of defense and physical presence.
Nikolai Khabibulin, G, 79 games over 2 seasons, the source of much of the reason to make white noise in the playoffs. Best quality goaltending the Jets ever had.
Morris Lukowich, LW, 80 games in WHA, 431 in NHL, 345 NHL points for the Jets. At times our sole offensive spark plug in the early NHL days.
Teppo Numminen, D, 547 NHL games, perhaps our best defenseman ever. I never thought he was as under rated as the rest of Winnipeg seemed to scream.
Teemu Selanne, RW, 231 games, and perhaps the most exciting single season of any Jet player. How and why they traded him away for Oleg Tverdovsky I'll never figure out.
Ron Wilson, C, 536 games over 9 seasons. Watching the worm kill a penalty is one of those special moments that made hockey so great. He could take the puck make the other team think dump, and fool them all and waste time either circling back or ragging the puck along the boards.
Markus Mattson, G, 62 games in the WHA, 52 in the NHL. Sure seems like he played more than that for us!. Saw more rubber in Winnipeg then Albert Street.
Tim Trimper, W, 140 games over 4 seasons, a real spark plug type player.
Phil Housley, D, 232 games, 259 points. magic at times, frustratingly ineffective at other times.
Shawn Cronin, D, 193 games and 703 PIM. A great goon.
Lucien DeBlois, RW, 235 games. Why they traded him for Perry Turnbull I'll never know.
Mike Eagles, LW/C, 293 games over 5 seasons. One of the hardest working players ever, stole the hearts of many Jets fans.
Mike Ford, D, 179 games over 4 seasons, was part of the 5 man unit with Sjoberg, Hull, Nilsson, and Hedberg.
Kris King, LW, 260 games over 4 seasons, became the captain, and a real leader.
Kent Nilsson, C, 158 games in WHA, 214 points. Only knew the Jets goalies by name though, not by sight.
Mike Hartman, LW, 75 games, one season, lived up to his name picking up 264 PIM and picking many fights against bigger opponents.
Veli-Pekka Ketola, C, 218 games over 3 seasons. Jets defined by adding skilled players in their 2nd and 3rd lines instead of goons and muckers.
Kim Clackson, D, 123 games, 413 PIM, an animal
Bill Lesuk, LW, 318 games in WHA, 49 games in the NHL, along with Lyle Moffatt the longstanding defensive duo of the Jets.
Ted Green, D, 242 games, local boy with world class credentials.
Daniel Berthiaume, G, 120 NHL games, the other half of the exciting duo of pokey and the bandit with Pokey Reddick.
Luciano Borsato, C, 203 NHL games, used sparingly for offense, exciting player.
Terry Ruskowski, C, 75 games, one glorious final WHA season, all heart this guy.
Dan Labraaten, RW, 111 games, exciting before he jumped to the Red Wings with coach Bobby Kromm.
Lyle Moffat, LW, 243 games in the WHA, 74 in the NHL.
Shane Doan, C, 74 games. I think he actually played the wing with the Jets. One of the promising youngsters that Phoenix actually held onto.
Dallas Drake, RW, 127 games. Steady, hard worker.
Pokey Reddick, G, 117 games, the other half of Pokey & the Bandit that energized Jets fans.
Serge Savard, D, 123 games. Before there was Randy Carlyle, there was Serge Savard providing the veteran leadership on the point. Who can ever forget his famous spinarama at the blue-line to thrwart an oncoming check.
Igor Ulanov, D, 176 games. Another frustrating player to watch. Spent too much time looking for the big bruising bodycheck and not nearly enough time thinking before blindly throwing the puck away in his own zone. But when he connected with a check it was a beautiful thing indeed.
Iain Duncan, LW, 127 games, one of the best young LW in the game lost it pretty quick.
Igor Korolev, C, 118 GP, over 2 seasons, exciting player who always seemed to play above his abilities. Made things happen.
Phil Sykes, W, 170 games played over 3 seasons as a Jet. A small guy, but an instigator and high energy player.
Randy Gilhen, C, 185 GP, over 6 seasons, a real local boy produced by the Winnipeg Warriors.
Danton Cole, RW, 120 NHL games, used sparingly but an exciting player.
Murray Eaves, LW/C, 49 games over 6 seasons. You had to feel sorry for this guy who was the perennial call-up from Tulsa and Sherbrooke.
Moe Mantha, D, 318 games and one of the best names in hockey history.
Jim Nill, W, 141 hard nosed, hard checking games for the Jets in the NHL.
Jim Kyte, D, 399 GP, pretty much ended up being a bad parody of himself after losing a fight to Kocur or McSorley? His fight with Kluzak though was the best fight I ever saw.
Dave Manson, D, 139 games in the NHL. One of the most frustrating Jets ever, stupid penalties galore, but still loveable because he could decimate opponents with his physical play.
Ron Loustel, G, 1 game. How can I leave him out? Read about it here.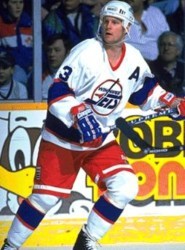 Dave Manson